Here at Fiberline, quality is at the heart of our business and everything we do. In this way, we can constantly ensure that all of our products are of high quality every time you do business with us.
When you do business with us, you will receive products with a number of much-demanded international certifications and standards within the building, offshore and railway sectors. This is your guarantee of high, consistent quality, every time you do business with us. See the full list here
Quality you can trust
High quality is – and has always been – at the core of our products because we know how important it is to our customers. That is why we are also pleased to be helping set a high standard when it comes to constructions with fibreglass in the EU. In 2011, we were therefore the first to obtain the recognised German construction certification AbZ, and in 2018, we were the first to obtain CE marking for all our profile selection. Among other things, the latter requires us to undergo two annual external audits to confirm that we are delivering what we promise.
Quality throughout the whole process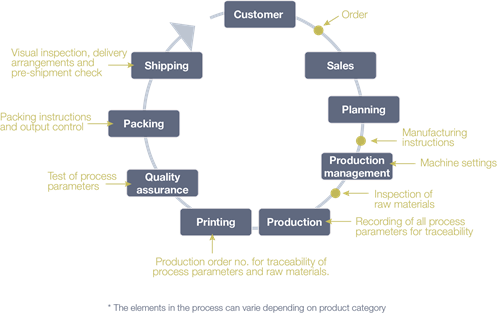 Here you can see how we handle quality throughout our entire business – from order placement and until the customer is in possession of the final product. Our quality control system is carefully adapted to ensure full traceability and high, consistent quality in every product.
All our subcontractors ensure quality control of our raw materials, which is documented in the form of a Certificate of Authenticity (COA).
In our production, all processes are controlled and documented using IFIX parameter control, work instructions, control instructions, etc. This ensures continuous flow as well as stable production and quality.
Testing of the process parameters includes cross-section measurements, to ensure that the geometry adheres to the tolerances in the specification. We also test the rigidity (elastic modulus), degree of hardening (DSC test), creep and strength.
All products that leave our production process have a production order number, date, pallet ID and CE marking printed on them to ensure full traceability of both the process parameters and the raw materials.
At our warehouse, clear packing instructions and output QC checks ensure that the products have the best chance of going all the way to the customer without being damaged.