Fire properties of fibreglass
GRP profiles have different fire properties compared to materials like steel, which means that they may not meet fire regulations without additional fire protection or isolation. Fortunately, there are various fire protection options available for our GRP profiles.
A study conducted by The Technical University of Lisbon, Portugal, tested five different passive fire protection systems on our GRP profiles: a 25 mm agglomerated cork board, a 25 mm rock wool board, a 25 mm calcium silicate board, a 2 mm intumescent mat, and a 2 mm intumescent coating. The study also included a water cooling system in the test setup.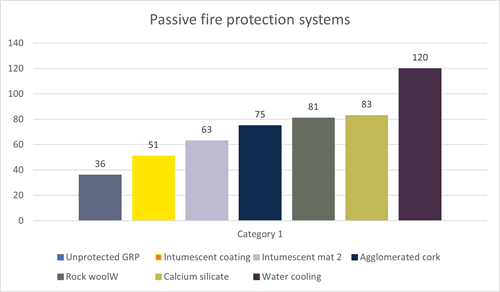 As shown in this figure, the best result came from the calcium silicate board and the rock wool board, which both registered fire resistances above 80 minutes (REI 60). The test also showed that using a water-cooling system prevented collapse from fire even after 120 minutes which meets the requirements of the highest fire rating (REI 120). (Ref: Nunes et al. 2013)
The above mentioned fire ratings are based on the study of simply supported GRP tube profiles. If your need for fire protection includes other types of structures and loads, we recommend that you consult with a enigneering company with this expertise.
References
Nunes, Francisco; Morgado, Tiago; Correia João Ramôa; Branco, Fernando (2013). Fire Protection systems for glass fibre reinforced polymer (GFRP) pultrued profiles. Task 5 - Structural behaviour of GFRP pultruded profiles under compression. FCT Fundação para a Ciência e a Tecnologia.



---